An Investment Management Firm With a Strict Code of Ethics
Our number one priority is client satisfaction! We will tailor our services to meet the needs of each individual Client. Our goal is to provide high quality investment Management services in a safe and responsible manner. We are a well-established investment management firm, specializing in the personalized design and management of municipal portfolios. Capital Gains Incorporated is intent on building long-standing relationships with its clients emphasizing professionalism and high quality Investment services.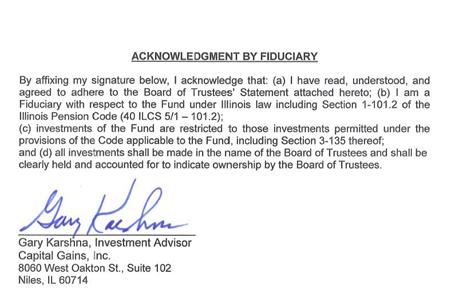 ADHERE TO THE CODE OF ETHICS
I WILL:
ACT WITH INTEGRITY, COMPETENCE, DILIGENCE, RESPECT, AND IN AN ETHICAL MANNER WITH THE PUBLIC, CLIENTS, PROSPECTIVE CLIENTS, EMPLOYERS, EMPLOYEES, COLLEAGUES IN THE INVESTMENT PROFESSION, AND OTHER PARTICIPANTS IN THE GLOBAL CAPITAL MARKETS.
PLACE THE INTEGRITY OF THE INVESTMENT PROFESSION AND THE INTERESTS OF CLIENTS ABOVE MY OWN PERSONAL INTERESTS.
USE REASONABLE CARE AND EXERCISE INDEPENDENT PROFESSIONAL JUDGEMENT WHEN CONDUCTING INVESTMENT ANALYSIS, MAKING INVESTMENT RECOMMENDATIONS, TAKING INVESTMENT ACTIONS, AND ENGAGINTG IN OTHER PROFESSIONAL ACTIVITIES.
PRACTICE AND ENCOURAGE OTHERS TO PRACTICE IN A PROFESSIONAL AND ETHICAL MANNER THAT WILL REFLECT CREDIT ON THEMSELVES ADN THE PROFESSION.
PROMOTE THE INTEGRITY OF, AND UPHOLD THE RULES OF GOVERNING, CAPITAL MARKETS.
MAINTAIN AND IMPROVE MY PROFESSIONAL COMPETENCE AND STRIVE TO MAINTAIN AND IMPROVE THE COMPETENCE OF OTHER INVESTMENT PROFESSIONALS.